Hi everyone,
It's been 10 months since I've published Chapter 1, and I wanted to dedicate a post to the issues I have fixed during this time, after reading people's comments and watching them play. I am currently working on chapter 2, but still find myself going back to chapter 1 pretty often to improve it.
Since the game was released I have been fixing little issues here and there – small bugs, missing animations – but there is a more serious issue that I have to deal with in the long term – People get stuck. A lot. It happens for two main reasons. The first one is that sometimes the puzzles are too difficult or counter-intuitive for some people, and the second one is that the progression in the game is not always clear, and people kinda get lost. Especially in the beginning.
So, I know It's not possible for the difficulty level to be perfect for everybody, since people have different skills and different levels of experience with adventure games, but still, I would like my game to be enjoyed by as many people as possible. I didn't want to make the puzzles easier, but I still wanted many people to succeed, so I decided to add a hint system. t was important to me that it would be integrated within the game world, so I tried the model of  Primordia, a game by  Wadjet Eye Games, which I really love. In that game you are a robot and have a small Sidekick drone who follows you around. You can speak to him whenever you want, and if you address him a few times in a row he will start dropping hints and suggestions that help you progress. I thought something like this could be a good fit, since llehctiM already kinda follows you around anyway (in the mirror world), so I added an "I'm not sure what to do next"option in the dialogue, and when you choose it, llehctiM will give you a hint. That way people who are struggling can consult llehctiM, and people who aren't can just keep playing without ever asking for help. This system also functions as a reminder, for players who came back to the game after a long time, or maybe weren't paying attention at some point, and are now not sure what they were supposed to do next.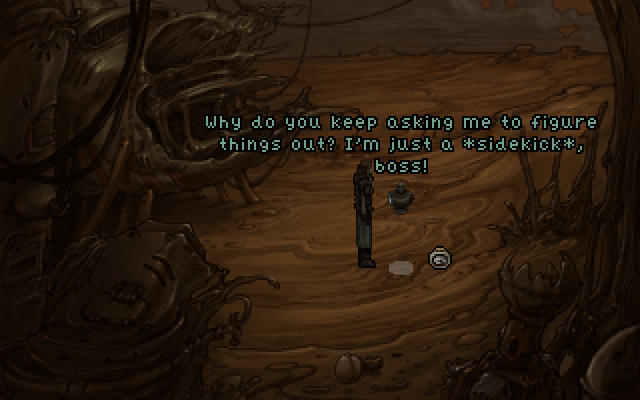 Primordia
So, I assumed this would solve the problem, but about 2 months ago I was showing my game at a conference, and I got to see people playing the game. This was the first time I saw complete strangers sit down and play my game, and it was a hard experience, since it didn't go very well for some of them. What I discovered during that time was that many of the players didn't even get to the point of passing to the mirror world. They would just go out of the bedroom and start wandering around the apartment, and pretty soon get frustrated that nothing is happening and give up. One of the reasons was that passing through the mirror was a 2 stages process – first you can look at it and discover Daniel's reflection is gone. Then, a "touch" action is added to the action list, allowing you to touch the mirror, and then, after Daniel's hand passes through it, he will decide to walk in. What actually happened is that the players looked at the mirror once, and then went to look at other things. Only a few of them interacted with the mirror for a second time. I didn't really anticipate it, since I thought that Daniel's reflection disappearing would be a good enough reason for people to stay interested in the mirror, but apparently it was not.
So, I ended up uniting these two actions – Now, when you "look at" the mirror, Daniel will look at it, try to touch it, and then walk through it. Everything will happen automatically and you won't have to interact with the mirror twice.
This only solves a part of the problem, since some people don't even look at the mirror to begin with, they just go out of the room and start looking around the apartment. A possible solution would be preventing Daniel from leaving his bedroom until he looks in the mirror, but I'm still not sure about it, since I wanted the players to take a look around the real apartment before passing to the mirror one,  so that later they'll have a point of reference. 
At a second conference, a few weeks later, I brought an improved version of the game, now with the united mirror interactions, but I discovered that even though most people would now get to the point of entering the mirror, they still didn't always get to the room where they meet llehctiM. Some of them would "miss" the study room and wander to other rooms, and again I had to stand there, watching them getting lost and frustrated. So, I added a hint to aim players at the right direction. Now, when entering the rooms adjacent to the study room, Daniel will say "I think I hear noises from the mirror study room." to let the player know there's something important there. I also added reoccurring doorbell rings, that remind the player that Becky is at the door (after the conversation with llehctiM is over).
I think that what I learned is that I can't take for granted that people would go where I think they would go, and that constant guidance is required. I also learned that there always should be a chance to be reminded of what you're supposed to do. I hope that the game is better and less frustrating now, but I'm sure there's still a ton of stuff to be fixed. I'm still working on it, and as always I really appreciate all feedback from players.
Thank you for reading!
Stav